What do you do when your wife is gluten intolerant and is also not allowed any sugars or carbs for three months and you want to go out for dinner? Well, you just test a restaurant's staff to see what they can do for you.
I am not a novice to sushi nor am I by any means a sushi expert so I have to sometimes take other people's word for it when they recommend a restaurant. It just so happened that my daughter was turning 17 and wanted to celebrate with sushi. I did my best to search the internet, (including this site), to find a great sushi restaurant in the Denver area. I am sorry to say that I didn't have Taki Sushi on my list, but it definitely is now.
Taki Sushi is a quaint place, very unassuming on the outside, but you don't want to miss this treasure. The wait staff and everyone else that works here are friendly and extremely helpful and go that extra mile to make sure your dining experience is above and beyond what you expect.
Of course the reason we came was for the sushi. It was very difficult to narrow our choices down to just just four. (My daughter and I couldn't possibly split more than four rolls.) We dispensed with the common rolls just because we really wanted to try the more exotic choices and as I said had limited ourselves to four. We chose the Red Stone roll, (tempura crab meat inside, spicy blue crab meat and tuna on top), the lobster roll, (lobster meat, mango, avocado, with soy sheets), and the Pearl, (fried oyster inside spicy salmon, avocado outside, with a special sauce.) Each roll was truly a taste sensation, all having their own individual nuances. You cannot go wrong with any roll you choose at Taki Sushi.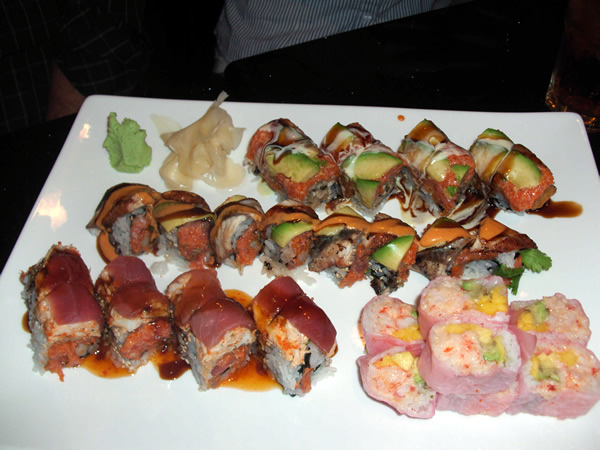 (top to bottom, the Pearl, the Sunflower, the Red Stone, and the Lobster Rolls)

So Taki Sushi is a little off the beaten path in Washington Park, but it is a restaurant that you really should stop in and visit. You won't be disappointed.

Dan Hammes
(your Internet restaurant critic)