I know I have said it before but it bears repeating; chain restaurants are boring. It doesn't matter where you go they all seem the same - ho hum. That is why I love to seek out the independent, locally owned gems that are still available for your dining pleasure. Once again I have found one of those great surprise restaurants. Not that the restaurant is new, I just haven't run across it before. Think 1920's lodge and you will have the atmosphere created at The Bistro at Marshdale in Evergreen.
I was looking for a special place to take my wife for our 27th wedding anniversary. I needed to find that kind of a cozy atmosphere that you want for a romantic dinner. While updating my listings at the web site here, I was looking at the listings for Evergreen. I always like dining in the foothills. Looking over the menu and the photos on their web site, I decided The Bistro was the place. I am so glad I made that choice.
The atmosphere is so inviting from the moment you walk up the steps and into the entry and bar area. It is a wonderfully relaxed feeling reminding you of years gone by.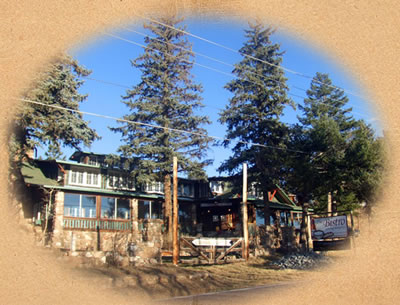 | | |
| --- | --- |
| | My wife and I always have a particular habit of looking for calamari on the appetizer menu. There are two reasons for this. One, we love calamari. The other, it is a great way to test the expertise of a kitchen. Calamari is one of those items that is very easily ruined at a restaurant. Overcook it just a bit and it is like chewing on rubber bands. So of course we ordered the calamari served with a choice of a remoulade sauce or a cocktail sauce. We chose the remoulade sauce which was a delightful light sauce that went perfectly with the lightly breaded and perfectly seasoned calamari. Some of the best calamari we have ever had. |

My wife, though not a boring woman by any means, is usually drawn to the filet mignon on any menu. She can't help it, she just likes a nice chunk of very tender steak. At the Bistro they pan sear the filet and then finish with an oven roasting and serve with bernaise sauce. My wife requested a bleu cheese encrusted on top that they gladly obliged her with. It was a beautifully tender and delicious cut of meat. One of the best filets she has ever had.
I had a very difficult time choosing from the varied menu, in fact I really need to go back because there are more items I really want to try. I was also in a red meat mood and was delighted to see something a little out of the ordinary on the menu. It was the chargrilled buffalo rib eye served with an Argentinean Chimichurri sauce. Oh my goodness, was that ever unique and delicious. The Chimichurri sauce gives the meat just a bit of a spice that was out of this world. Personally, I am not a big fan of rib eyes, just a personal preference, but this was fabulous. And the roasted potatoes I had with it were perfect.